On May 12 in our Warsaw office, in cooperation with the DKMS Foundation, we organized the Day of Bone Marrow Donors. Our Company has thus joined the group of enterprises supporting bone marrow donation and the Foundation.
The registration campaign was preceded by an internal outreach campaign and a webinar led by a Foundation representative.
 "At EXATEL, actions combining the CSR and volunteering are extremely popular among its employees. I also was able to register as a potential donor to the DKMS database during Thursday's event. The more people are entered into the Donor Database, the greater the chance for those who wait for a bone marrow transplant that will save their life. – said Nikodem Bończa Tomaszewski, EXATEL's CE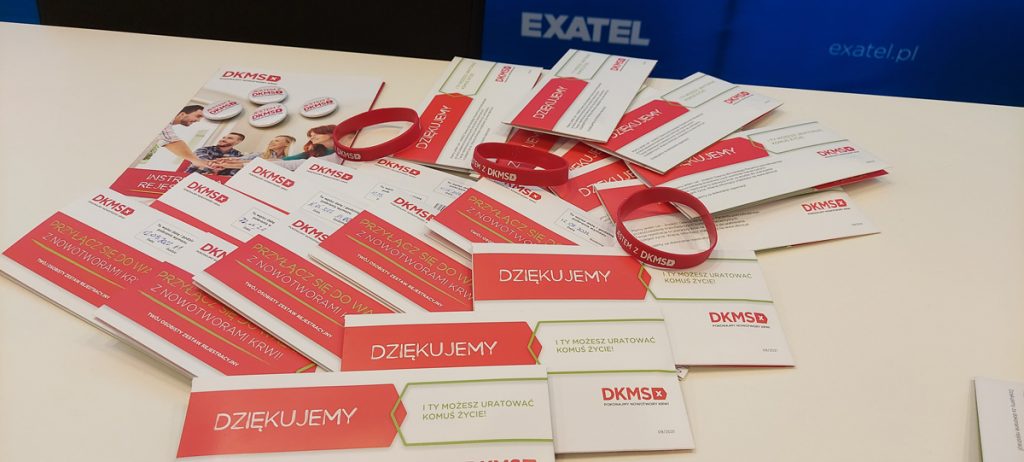 Recently, the Foundation celebrated 2 million registered potential marrow donors in Poland. The number of actual donors in the DKMS database, however, exceeded 10 thousand. This number means that 10 thousand patients from Poland and around the worlds were given a chance to recover.
On May 28, we will celebrate World Blood Cancer Day. It takes as many registered potential Donors as possible to give hope for life to blood cancer patients. We encourage you to register right away.
You can also help the DKMS Foundation by making a donation that will be used to promote registration to the Donor Database. Read more about in on the Foundation's website.