Mobile technologies are an integral part of telecommunications – including in the business-to-business (B2B) market. They affect both individual customers as well as the society as a whole. One must not forget about the possible consequences for the digital sovereignty (cyber sovereignty) of the State. That is why at EXATEL we use our R&D potential to actively participate in the development of mobile solutions of the future. 
Rapid5G – the beginnings of 5G technology in Poland
We were involved in 5G technologies before it became the fashion. Exatel has participated in the international Rapid5G research and development project since 2014. This is a joint venture of several universities from Germany and Japan and business entities from the EU and Israel. The project was launched thanks to the support from the European Union under Horizon 2020 and EU's cooperation with Japan. It resulted in the first in Europe (and one of the world's first) tests of 5G technology in public spaces. These were conducted on July 12, 2017 at the Blue City Shopping Center in Warsaw, Poland.
Completion of the Rapid5G project was the beginning of a new journey for us. Thanks to the unique knowledge we gained during that period, we could develop an innovative approach to the implementation of 5G network in Poland. The result of our work was the Polskie5G project.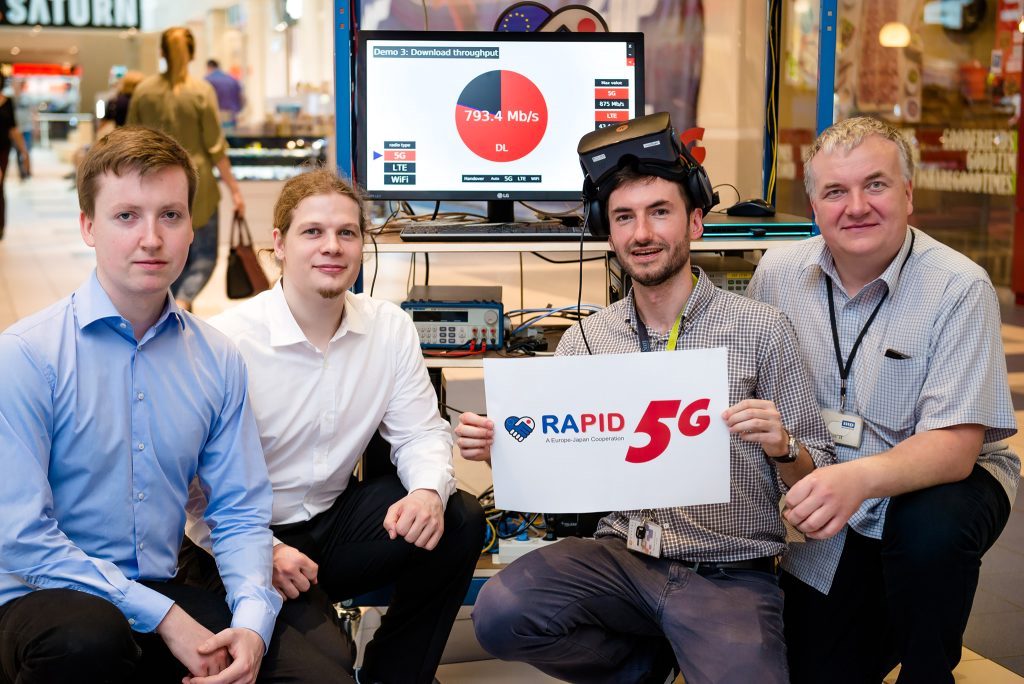 Polskie5G – wholesale operator of 5G networks in the 700MHz band
The idea we put forward in 2018 is a new outlook on the collaboration of telecom operators and the role of the State in building cyber sovereignty. The Polskie5G project assumes the establishment of one wholesale operator that will manage the nationwide wireless mobile communications network in 5G standard in the 700 MHz band. It would be created in cooperation between the commercial sector and the Treasury. Its goal would be not only to cover the Polish territory with 5G network more effectively, but also to increase the safety of Polish society by building a Wireless System of Special Communications.
As a result of our efforts, on October 28, 2019, the Polish Development Fund, EXATEL, Polkomtel Sp. z o.o. (Plus network operator), P4 Sp. z o.o. (Play network operator), Orange Polska S.A. and T-Mobile Polska S.A., signed a Memorandum of Understanding (MoU). An agreement, which in the following years resulted in the development of a technical report on the implementation of a common 5G network and the development of a business and financial model. It was necessary for the establishment of a special purpose vehicle. The result? The assumptions incorporated into the idea of a common 5G network and inter-operator cooperation are feasible. Today, the Polskie5G project is at the stage of government work; the aim is to provide it with an appropriate legal framework.
After 5G, the time has come for 6G technologies in EXATEL
Mobile connectivity has been and will continue to be an important part of the telecommunications world. That is why we are already working on 6th generation (6G) wireless network solutions. The results of our endeavours is the R&D project "High-speed Wireless Optical Transmission for Secure Communication" launched in 2022. This is the result of cooperation between EXATEL, Warsaw University of Technology and German partners – Fraunhofer Heinrich Hertz Institute (the equivalent of the Polish Sieć Badawcza Łukasiewicz) and the company VI Systems. For more on the project itself, read "New Last Mile Technologies in the Sixth Generation of Mobile Network (6G)."