SDN is the new approach to developing and managing telecommunications networks and services. This is a network concept that separates network management from data transmission. Thanks to this we gain independence from a specific device vendor and we can design and develop network architecture using EXATEL's open-source, software-defined devices, and implement services created by our own R&D team.
EXATEL's SDN is not only a Software Defined Network, but a Self Defined Network – a network that is fully defined by us. This means being able to create networks according to our and our customers' requirements, by producing our own software. Our new network's order.
TechSystem Self-Defined Network
SDNexpo intuitive network management system
SDNomni programmable network driver
SDNedge multifunctional edge devices
SDNcore efficient backbone devices
SDNbox CPE network device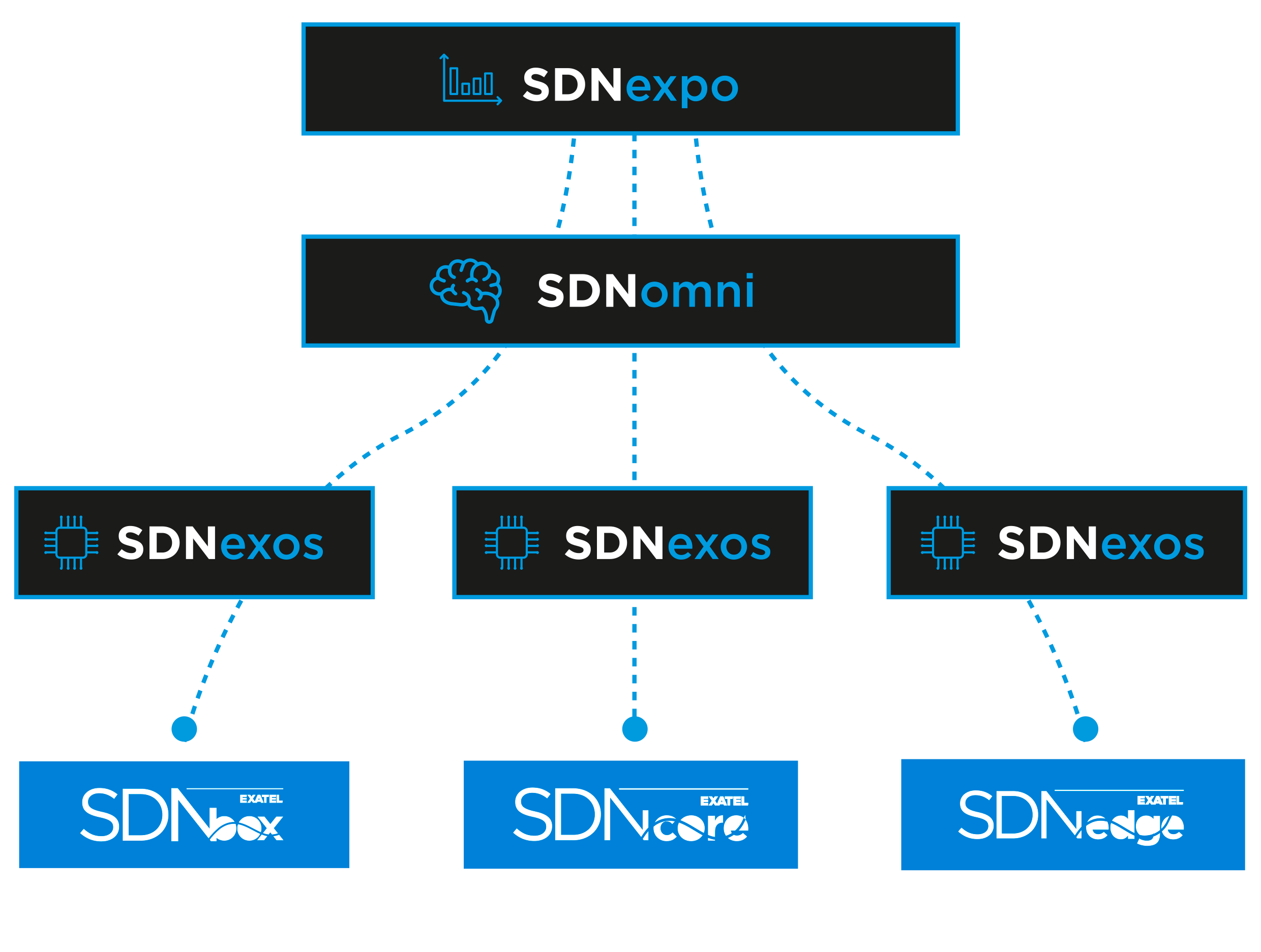 What's in EXATEL's SDN-based offering?
The first step in EXATEL's SDN implementation is to rebuild and develop the network in accordance with the new architecture. Both backbone (SDNcore) and edge (SDNedge) devices configured and managed from our own SDN driver (SDNomni) and from a dedicated operator portal (SDNexpo) have already been installed in our Network.
In April, we started the transfer of L2 network services provided for our customers to the new SDN infrastructure, as well as the launch of new services. One of the key elements of EXATEL's SDN is the deployment of the proprietary CPE (Customer Premises Equipment), with EXATEL's own operating system, which serves as a demarcation device (it separates responsibility) for L2/L3 services provided and enables full management and monitoring in the SDNexpo portal.
SDN
Based on the Software Defined concept, the wide area network independent of transport links, optimizes network functions and provides insight into network status.
SDNomni
A driver that provides a control plane and an unified view on the operation of network functions. It uses open communication standards and provides two application programming interfaces (APIs) for a communication:
with network devices, managing them and the network services, and collecting the network status information,
with applications depending on what settings the network and services need.
It is built on an independent platform (server cluster) with high scalability and availability.
SDNcore
A backbone device of EXATEL's SDN; high-performance devices located in the main nodes of the network combined with other devices, forming the backbone of the network with throughputs of up to 400 Gbps.
SDNexpo
It is a graphically enhanced operator portal with an intuitive dashboard for managing, reporting, and monitoring networks and services. It provides:
an automation of the network configuration and reconfiguration,
the network statistics for in-depth monitoring of the network and device parameters,
a network topology visualization,
an extensive library of alarms to speed up the diagnosis.
SDNbox
A CPE device with EXATEL's own operating system. It is a demarcation device for the provided L2/L3 services (installed at the customer's location), which allows full management and monitoring of service parameters in the SDNexpo portal.
SDNedge
Edge devices in EXATEL's SDN network. They provide the attachment of access networks and the transit to the backbone network.
the flexibility of changes in configuration and development of new applications for the changing needs of the customer; the possibility of direct integration of the network with customer's applications and systems
cost-effectiveness – devices are 'eternal', only the software layer changes. Sustainability of the network, without the need to replace the infrastructure in 5-year cycles, reducing the start-up time of services by configuring and managing them from a centralized and uniform system for all devices in the network
security – secure by design
environmentally friendly – full control over network = full control over energy
AI ready

We want to be pioneers and implement ambitious concepts. We have used the SDN philosophy to create our own technology, a flexible solution at the world's highest level. We independently verified which solutions are worthy of use and which mechanisms, standards, and protocols we want to use. We created the solution with the idea of using it in the second largest optical fiber network in Poland. As a result, we can now say that we are in the technological lead and our R&D paves the way for others.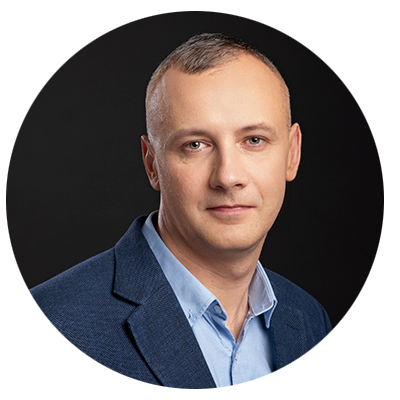 Artur Helman
Director of EXATEL's R&D Solutions Department


EXATEL is seen by most as a telecom company. This is, of course, a good connotation and we take pride in every service well rendered. However, the world has moved on, and the days when telecommunications was synonymous with cutting-edge technology are now a thing of the past. We are moving forward and EXATEL is boldly going where no telecom companies have ever gone before. Telecommunications is now the foundation on which new services, products, and technologies are built. Technologies like the Self-Defined Network from EXATEL. SDN is the (r)evolution of telecommunications!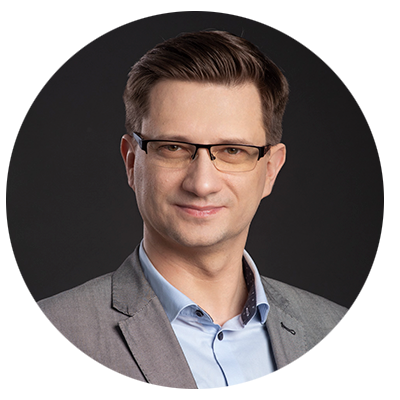 Michał Mąkosza
Deputy Director of EXATEL's R&D Solutions Department